School districts prepare for second run of Georgia Milestones tests | News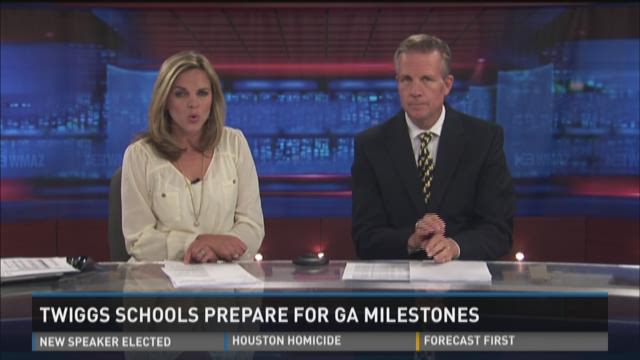 For the second time this year, Georgia students will take the Milestones test.
It's a test the state uses to measure whether public schools are improving. It replaces several standardized tests that students took previously.
It's also an online test, and school systems are working to make sure they have the equipment and its students ready. While school districts are still waiting for last year's scores, many are already preparing for this year's test. Still, many districts and its students face many challenges.
Twiggs County may only have three schools, but getting its students ready for online assessments hasn't been the easiest task. However, it's one the superintendent said they've been anticipating.
"I think going to an online assessment gets students into that mode of thinking that it's no longer pencil and paper," Elgin Dixon, the Twiggs County superintendent, said.
He said he wants students to be comfortable with taking a test entirely online.
"We want to access their knowledge base of content so we want to make sure that they have the necessary skills that they need as it relates to the use of technology," he said.
TraVontae Basley, the district's technology director, students get daily keyboarding instruction.
"Each kid starting at third grade goes through a rotation and uses a typing program to better assist them when it comes to those open ended response questions," Basley said.
Twiggs officials said every student has the chance to work on a computer in each of their core classes. According to Melissa Fincher, it's exactly what they should be doing. She is the deputy superintendent of Accountability and Assessment with the Georgia Department of Education.
"I would encourage them to increase their exposure to technology and allowing the students to respond through technology," Fincher said.
In the past, Twiggs County schools struggled to keep up with the trend toward digital and online learning, but not because they didn't have enough computers.
"It was some what challenging in the beginning due to our infrastructure," she said.
By infrastructure, she means bandwidth. It's the amount of internet access available. The more bandwidth there is, the more students can work online and the faster they can test.
"If you look at what it takes in a household of four, usually the slowest bandwidth that you could have is three megs and you were talking about 1,000 users here on 15 megs," Basley said. "That's what we were dealing with here in Twiggs."
But the State Department of Education stepped up, ensuring each school has the bandwidth it needs.
"This year, they had an agreement with Peachnet and it allowed each school to have 100 megs, so now we have about 300 megs total," he said.
"Every school should have sufficient bandwidth to cover this," Fincher said.
Last year, the state required 30 percent of students in every district to take the test online, but had 53 percent test online. Fincher said the goal for the next school year is 80 percent, but in Twiggs County, the goal is much higher.
"I think this year, we'll be good and we'll be able to do 100 percent with the exception of special ed kids," Basley said.
Both Fincher and Dixon are confident Twiggs students and other students across the state are ready.
"You've got to be able to compete globally by the use of integrating technology and being able to the knowledge base that you have through the use of technology," Dixon said.
"Moving online really important because that's the way our world is moving," Fincher said.
The State Department of Education released preliminary scores last month. It shows Georgia students are not competing well against other students nationally. In all four test subjects, about two-thirds of Georgia students were not proficient. In English-Language Arts, 37.5 percent of students in grades three through nine were either proficient or distinguished. That leaves more than 62 percent of students in the "beginning" or "developing" categories and below their peers on a national level. Math scores are slightly worse with 36.5 percent students proficient or distinguished, and more than 63 percent of students "beginning" or "developing."
Milestones scores for Science and Social Studies were even worse with only 35 percent of students proficient or better in science, while in social studies, 34 percent of students were proficient or better.
Let us connect you to more data on the preliminary Georgia Milestones scores.